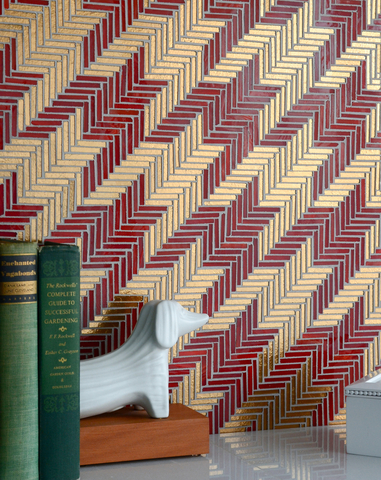 Sara Baldwin's Houndstooth Collection
(Exmore, Virginia)…….New Ravenna Mosaics is proud to introduce the Houndstooth Collection designed by founder and creative director, Sara Baldwin. Handmade in Virginia, the Houndstooth Collection consists of four colorways, including a classic black and white, a luxurious gold and red, an iridescent purple and pink, and a pastel combination of aquamarine and white. The Houndstooth Collection is a continuation of Baldwin's explorations in designing mosaics inspired by textiles.
Her prior designs have included ikat, suzani, paisley, kuba cloth, gingham, and plaid. Houndstooth was originally created in the Scottish lowlands in the 19th century. The pattern was first used in American menswear in 1933 and has made a significant statement in the international fashion scene this season. Sara Baldwin says," a classic pattern never really goes out of style. It is perennial, with cycles of popularity, like the one we are witnessing now. The broken-check pattern of houndstooth was a natural to adapt to mosaics; the challenge was to create unexpected modern colorways that allow you to see the traditional pattern with completely fresh eyes. This collection pays homage to my Scottish McCaleb family roots and my love of uninhibited color combinations."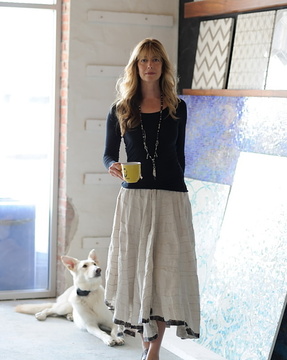 The Houndstooth Collection is available in jewel glass or natural stone. In glass, it is suitable for vertical interior installations. In stone, the mosaics can be installed indoors or out on both floors and walls. New Ravenna Mosaics tile is available in showrooms throughout the United States, Canada, Europe, Dubai, and Russia.
About New Ravenna
New Ravenna Mosaics is America's premier designer and manufacturer of stone and glass mosaic tiles for both residential and commercial installations. The company's products are handcrafted mosaics, made in Virginia, that are fashioned into decorative borders, murals, fields, and medallions. Tile is cut and can be tumbled, honed or treated to create distinctive styles, subtle shade variations and textures. The end products are custom works of art in mosaic tile, which often incorporate the designs of architects, interior designers and their clients. New Ravenna Mosaics sell exclusively through designer showrooms across the country and internationally. The company provides design services along with on-site supervision of installations. New Ravenna Mosaics products are found in homes, restaurants, hotels, casinos, and businesses around the world.
####
[Press Release]